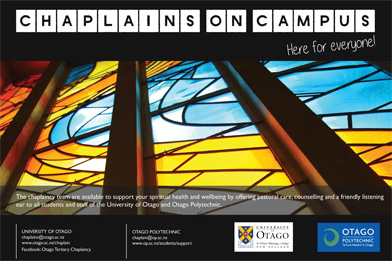 The Otago Tertiary Chaplaincy Trust Board (OTCTB) exists to provide Chaplaincy services on an ecumenical basis to the University of Otago and the Otago Polytechnic. The Board was established in 1963, and the first Chaplain, Rev Lewis Lowery, was appointed in 1964. The Board meets monthly and has representatives from a range of Churches, from the University of Otago and Otago Polytechnic, and from the Students' Association of both institutions (OUSA and OPSA).
The Dunedin-based Ecumenical Chaplaincy team is comprised of two full-time Chaplains, Rev Olivia Dawson and Steve Downey; one half time Chaplain, Rev Dr Jordan Redding; and a Māori Chaplain, Dr Helen Papuni (0.4 FTE). Dr Sheila Mark is Ecumenical Chaplain for the Christchurch campus of the University of Otago (0.1 FTE). We also have several Volunteer Chaplaincy Assistants, including Lyn Meinders.
Our Dunedin-based Ecumenical Chaplaincy team works in close partnership with the Otago Catholic Tertiary Chaplaincy team, as well as the Muslim Chaplaincy Team. Lisa Stuart works on the Southland campus.
For more information about University Chaplaincy please see www.otago.ac.nz/chaplain
For more information about Otago Polytechnic Chaplaincy please see www.op.ac.nz/students/support/