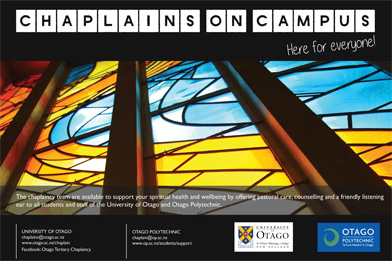 Friends of the Chaplaincy
The Friends of Tertiary Chaplaincy at Otago are a group who support the various Chaplains at the University of Otago and Otago Polytechnic through their interest in their work, prayer, attendance at various events, and through financial support.
Friends:
receive an occasional newsletter via email (quarterly or so) which tells them of significant forthcoming events (including graduation services), gives cameo-stories of the work of chaplaincy, and gives details about support (you can signup to recieve our newsletters here).
attend services held by the Chaplains, and other events associated with Chaplaincy;
are committed to pray for the work of the chaplains;
are encouraged to give on a regular basis to support the work of Chaplaincy through automatic payment (eg $10 per month).
Those wanting to make a regular donation to support the work of the Chaplaincy are encouraged to set up a payment using online banking. For most banks, this will take only a couple of minutes. Our bank account details are Otago Tertiary Chaplaincy Trust Board, BNZ University of Otago Branch, 02 0929 0132985 00
When setting up an automatic payment please enter your name for the particulars field, the word "donation" for the code field and the word "friends" for the reference field.
Donations are tax deductible. Once you have set up an automatic payment, if you require a receipt, please email otagochaplaincy@gmail.com, saying that you have set up an automatic payment and giving your full name, the amount donated (e.g. $20) and the frequency of the donation (e.g. monthly). Receipts for the tax year will be sent out by email in April each year.