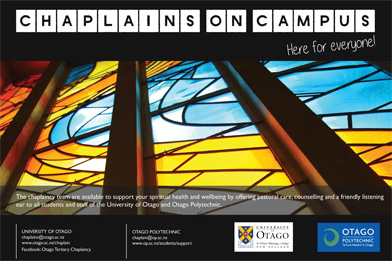 Friends of the Chaplaincy
The Friends of Tertiary Chaplaincy at Otago are a group who support the various Chaplains at the University of Otago and Otago Polytechnic through their interest in their work, prayer, attendance at various events, and through financial support.
Friends:
receive an occasional newsletter via email (quarterly or so) which tells them of significant forthcoming events (including graduation services), gives cameo-stories of the work of chaplaincy, and give details about support (you can signup to recieve our newsletters here).
attend services held by the Chaplains, and other events associated with Chaplaincy;
are committed to pray for the work of the chaplains;
are encouraged to give on a regular basis to support the work of Chaplaincy through automatic payment (eg $10 per month).
Our bank account for regular donations is: Otago Tertiary Chaplaincy Trust Board BNZ University of Otago 02 0929 0132985 00
Donations are tax deductable. If you require a receipt for your donation(s) please contact the Board Treasurer Mr Phil Tait via Philip.Tait@op.ac.nz